Power of Words Label founded by Haji Mike in 2015 releases Dub Poetry for conscious world travelers.
 New release 1st May 2018 'XXVIII' by Haji Mike produced by Med Dred
Join us on Facebook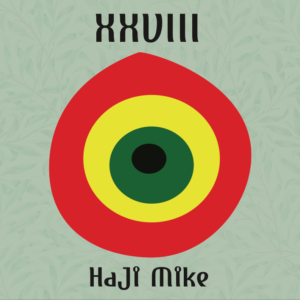 "There are two types of people, those who shine and those who take from other people's glow. Haji Mike is an original, who always shines" Mr Ska
XXVIII years ago Haji Mike made his first steps chatting on the mic by daring to be different making a unique style of Reggae blended with Cypriot/Greek instrumentation and melodies combining intelligent lyrics. That journey has taken him all over the world physically, starting from a bedsit apartment in Green Lanes, Haringey, London above the legendary Trehantiri Record Shop, then moving back to Cyprus and performing in Greece, USA, South Africa, Ireland, Holland, Germany, Jamaica, Japan, Portugal, Morocco, and Corsica/France. In Cyprus he has become a bit of an urban legend. This new release 'XXVIII' is a celebration of that journey with a number of personal songs dedicated to people close to him who have passed away, and to people who have been an inspiration to him as a writer through their releases and stories.
This album is also a celebration of what happens when people gather to make music, from different parts of the world, with one love and humanity. The release features lyrics by Haji Mike with music produced by Med Dred, who also mixed and mastered the project in Cyprus. Two tracks 'Only Jah Can Judge Me' and 'Only Jah Can Dub Me' were created in Cyprus and Jamaica at the legendary Grafton Studios with input from the celebrated horns duo Nambo Robinson (RiP) and Dean Fraser.
 'XXVIII' by Haji Mike released by Power of Words  May 4th 2018 with worldwide digital distribution from IDC – Independent Distribution Collective www.independentdistro.com
Release launch party with Haji Mike & The Outernational Sound System happens 28th April @ Ithaki, Nikiforou Foka 33, Nicosia, 1016 Cyprus. For more details check www.facebook.com/events/2020820181574971/