'Making music from 1990, writing about it  and DJ from about a decade earlier, I have met and worked with many people in many places, people who have changed the course of my life through making music and just enjoying the process of doing it. I know many people have been left out – don't worry I will get round to mentioning every one soon'  Haji Mike
---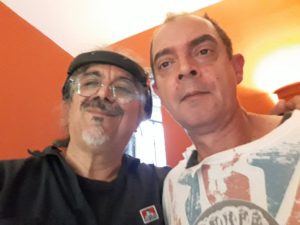 Corsica is a land of mystery and striking beauty…and on the top of a hill in the centre of the small village of Corbara in a hamlet dating back to the 1600's resides the one Gibsy Rhodes aka Kingdom Signal. I met Gibsy through radio when he told me he wanted to a do a 'Haji Spesh' on Versionist in 2015. I felt honoured that some one, from the radio underground wanted to do a show on me featuring music form the last 20 years and from there we hit it off as cool cyber friends, exchanging stories, insights  and tunes. Gibsy is one of the most generous people I have ever met. He donated his whole record collection to various DJ's and when a rather large parcel arrived for me at the post office I knew the 7 inches inside were treasured. Asking him why he did it, he simply replied 'I just want them to be played by good Dj's…' A while later, after he got back into music, got some equipment he started creating again after a 20 year hiatus. I was immediately drawn to Gibsy's dubs and creations for 3 key reasons. For starters he does not do 'dub by numbers' , the cliche things, and nor do I do lyrics by numbers so we hit it off. Next his music to me felt like a slow hypnotic heartbeat that just made me nod my head and speak/headtop freestyle. And last his is musically progressive, so much so that some times you get surprised that when he goes forward its like am time shift.
Visiting Gibsy recently in his humble abode and doing just music for a week was an blessing. I don't think many people realize in his village who he is and what he does. He is probably the amicable English man who chats to all the locals in the vernacular but still no matter what he is still an outsider. For me is he is a musical creator par excellence who I also get on with extremely well and we have created our own release, 'One Summer…' and label Power of Love Records…and more work is in the making…
---
Zacharias 'Sugar' Hajishacalli ( 1954 – 2007)
Where do I start? I was around 12 years old when my brother George joined a bouzouki band playing mainly Greek weddings where we lived in London. I can't remember all the members but one person made a lasting impression on me, Zacharias Hajishacalli aka Sugar.  Years later we would be walking into the BBC to do a live session for Andy Kershaw with Sugar carrying his bouzouki and announcing his name to a baffled receptionist who was obviously struggling to pronounce it right – he simply said 'just call me Mr.Smith' and smiled. Sugar is a mentor, a teacher, a person who guided me in my early days on the mic and half of the success of tunes like 'Stavroulla' and 'Vrakaman'  – the Cypriot Reggae sounds of London – is down to him, his music, his bouzouki and imagination. His passing after a long battle with cancer in 2007  hit many of us, as he was the most significant music producer of Cypriot origin based in London, so he was like a father, brother  and friend to so many people. Aside from Greek and Cypriot music Sugar also left behind a whole range of stuff that he had done, from collaborations with Boy George as  Jesus Loves You who he toured with to some amazing chill out stuff that he did with his brother Louis. More than anything though Sugar was pithkiavli, that small penny whistle that shepherds used to play in the fields of Cyprus to calm their flocks. I can just see him now on a cloud up there somewhere playing serenely, an old traditional melody from Cyprus. Many people ask me whats your favourite tune you did with Sugar, they always expect the expected, I reply 'When Cyprus Becomes One'. RiP Megale – you will live forever in our hearts and memories.
---
I was once doing a gig in Santa Cruz, California, USA . It must have been 2007, as part of the Power of Words Tour. The venue was huge, the event was badly promoted, it was a weekday, and a Dub Poet from the Mediterranean island of Cyprus resulted in a handful of people passing through. It was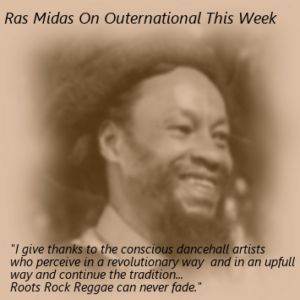 one of those 'many are called (apparently) few are chosen nights. After sound check a humble Rasta who has been waiting for a while at the back stepped forward to introduce himself by simply saying 'Greetings I am Ras Midas' and everything seemed to fit perfectly, no matter the attendance or lack of, many things happen for a reason. I have been hearing Midas' tunes from the 1980's as a youth living in England. His name kept coming up, time and time again this Roots Warrior would stand firm right into this age of mediocre auto-tuned soulless products that just pile up one on the other in their sameness and shallow content. There are a few things consistent about Ras Midas. He makes music that is fundamentally timeless. What he sang about in the 1980's is just as relevant to the messed up world we are living in today as it was to the way the world was just as messed up back then. Additionally he is relentless, has never deviated from the path of solid Roots Rasta Reggae Music. No dilution, no gimmicks, no let's try a dip in the mainstream and try a pop song. Just Roots. Finally, Ras Midas is a humble spirit who will sit down a reason with any one, and that's important. He listens, shares experiences and ideas, and as a seasoned artists I feel everyone has a lot to learn about music, culture, history and the world from him. Big up Mi Bredren Ras Midas every time the tireless Roots Warrior!!! Check Reasonings with Ras Midas on Outernational Radio Show
---