Haji Mike aka Mike HAjimichael
Dub Poet – Radio Presenter – DJ – Writer – Doctor of Philosophy – Professor
Born in Marathovouno, Cyprus, and rasied in London, England, Haji Mike is one of the most well known artist in the far eastern Mediterannean island. He is on Youtube, Soundcloud, Twitter, Facebook, iTunes, Bandcamp et al. He's been on the BBC (Rhythms Of The World TV Programme, and Andy Kershaw live radio sessions) and has graced many  radio stations land and net based.
Lyrically he has appeared on many  artists creations (attempted full discography below) not only on dub, but hip hop, acid funk, dance and world music. He's toured extensively throughout the world in South Africa, Japan, UK, Jamaica,  Greece, USA, Ireland, France, Portugal and his homeland, Cyprus. Currently he  DJ's on 3 stations weekly including Nice Up Radio, Riddim 1 Radio & Koubebi 
Haji Mike is also a Professor and Head of The Department of Communications at The University of Nicosia, and  has lectured at conferences throughout the world.  He recently completed the book 'Bob Marley and Media Representation and Audiences' (Rowman & Littlefield, 2023)
The latest musical project by Haji Mike is called Acoustic Poetry and it was recorded in Jamaica in the spring of 2023.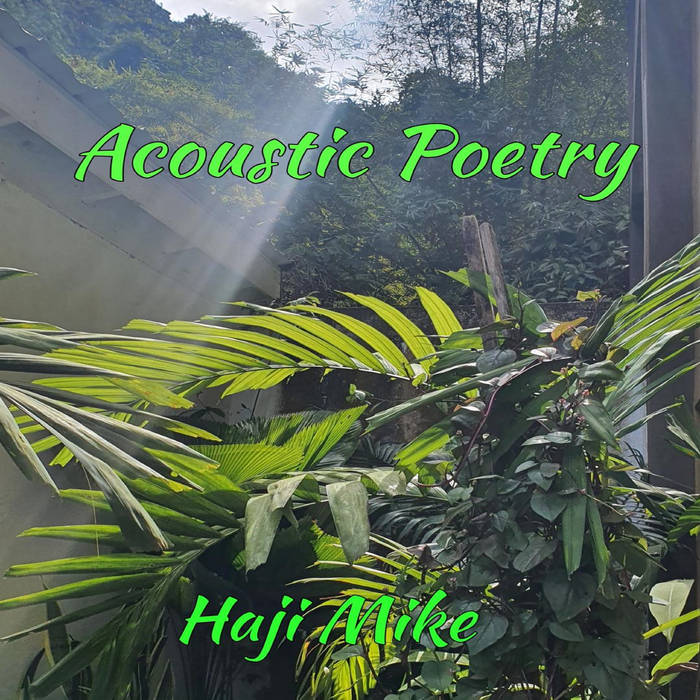 Recorded in Kingston, Jamaica at The University of West Indies by Ray Hitchins the album was produced in a single morning session in one of the oldest buildings The Book Keeper's Inn on the campus. As Haji Mike says 'I have always wanted to record a set of songs in Jamaica, in that classic sense, when a group, singer or DJ used to just get on the mic and do it, like a one take, live session thing, with no over produced gimmicks, re-takes, or edit-copy-paste production fixes. Artists would just do it, one style, one take.' The raw and intricate sounds produced create a beautiful and uplifting atmosphere that captures a unique essence and spirit. The album's characteristic blend of warm acoustic melodies and powerful spoken word performances make for a thought-provoking experience.
Haji's message of social justice is conveyed throughout the album with a passion that inspires its listeners to reflect on contemporary and past issues with the aim of finding solutions through art as advocacy. Produced and mixed in Cyprus by Smilin', 'Acoustic Poetry' presents a diverse array of sounds that come together to make a memorable and unique listening experience. It's also a very different Haji Mike from what people are used to, in its raw, solo, acoustic form, which can travel anywhere globally, in its live acoustic performance form, as a poet with guitar. What you hear, is what you get. Acoustic Poetry is available on Bandcamp, Apple Music, Spotify, Amazon, and all good digital music platforms.
Discography