Haji Mike
Dub Poet – Radio Presenter – DJ – Writer – Doctor of Philosophy
Born in Marathovouno, Cyprus, and rasied in London, England, Haji Mike is one of the most well known artist in the far eastern Mediterannean island. He is on Youtube, Soundcloud, Twitter, Facebook, iTunes, Bandcamp et al. He's been on the BBC (Rhythms Of The World TV Programme, and Andy Kershaw live radio sessions) and has graced many  radio stations land and net based.
Lyrically he has appeared on many  artists creations (attempted full discography below) not only on dub, but hip hop, acid funk, dance and world music. He's toured extemsively throughout the world in South Africa, Japan, UK, Greece, USA, Ireland, France, Portugal and his homeland, Cyprus. Currently he  DJ's on 3 stations weekly including Nice Up Radio, Riddim 1 Radio & Radio Blind Dog, a station set up with Dimi Morozov
Haji Mike is also an Associate Professor at The University of Nicosia, where he is Head of The Department of Communications  and has lectured at conferences throughout the world.  He edited the  book  'Art And Social Justice – The Media Connection" – Cambridge Scholars Publishing and recently completed research on Bob Marley Radio which you can access here
In 2017 Haji Mike joined a band, the Highgate Rockers at the grand old age of 57! In the summer of 2018 they recorded  their debut LP 'RLY?' at Real World Studios . By the end of 2018 a new studio started in Nicosia, Cyprus called Blind Dog Media. Dimi Morozov, Haji Mike  and Hugo Enrique Olivos are the key the founding members of this new creative space, which includes a recording studio, radio station, video production space and music label. Blind Dog is our cave…It's also where all the music and Radio works are done live:
The latest project featuring Haji Mike is called  'Sharka' by Chaka Chouka, an online collaboration with Simon Webster, Bernard O'neill, and Mouna Eddrou 
The LP has been played all around the world. 'Sharka' is a scintillating mix of reggae, Moroccan music and funk. Simon wrote the original music and plays drums, percussion, guitar and melodica. Bernard produced the album and plays bass, organ, keyboards and baritone guitar. Sharka' has lyrics in four different languages. Haji's socially engaged dub poetry lyrics are complimented perfectly by Mouna's Sufi inspired singing.
This vocal combination, thanks to Bernard's excellent production remains a constant theme through out the album.
Morocco is a cultural crossroads where North African Berber culture meets the Middle East, the Sahara, sub-Saharan Africa and Europe. Chaka Chouka's music is a reflection of this and also links seamlessly with the African roots, traditional "mento" music and jazz/ R n B influences of reggae. Listening to the album will infuse your senses with a unique blend of flavours from the Carribean, North Africa and the Middle East…….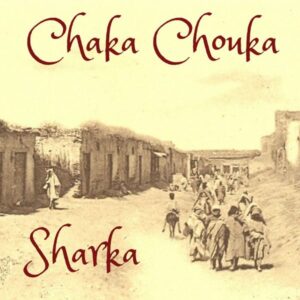 Discography