In 2017 I began researching the subject of Bob Marley and Radio, which within a year became a broader piece of research, including printed press and television representations of the singer, 1972-1981. In spring 2023 my research is going to be released as a book publication with Roman & Littlefield International . The title of my book is 'Bob Marley and Media – Representations and Audiences.' This section of my blog shares some of my research data and findings. Its largely structured on the chapters in the book sharing some key data and visual illustrations.
Verse 1 – In this great future, you can't forget your past….
Document Analysis Print Data – Coding Tree
When collecting data for the book I suddenly realized there was much more texts in print form, largely form magazines and newspapers, than exposure for the singer through radio and television interviews. As a result I collected 1000 articles of which I focused on a sample of 100 in-depth. I then applied a document analysis which gave the ability to dissect and organize a wide range of information, from sources ranging form NME, Black Music, The Guardian, Creem, Crawdaddy, Sounds and many others, into manageable components through the use of codes and specialized themes.(Bowen 2009).
This is illustrated below in Diagram 1 Thematic Coding Tree of Print Data on Bob Marley: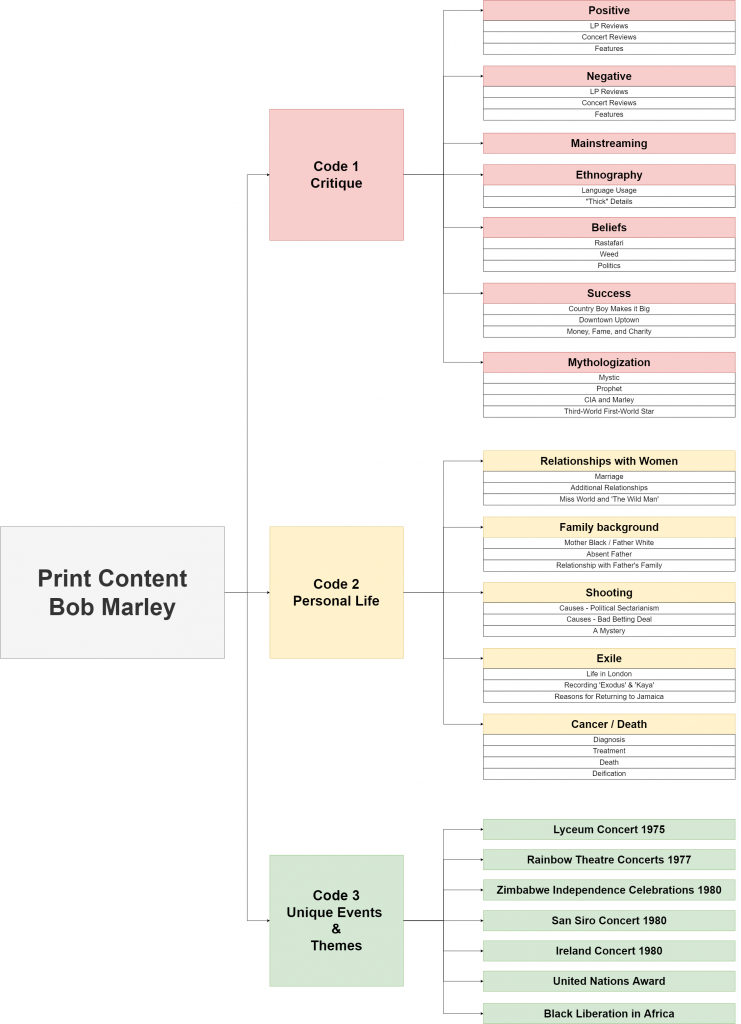 The coding tree took about six months to develop through a close reading of the 100 articles. Once it was done, the chapter on printed press could effectively, to coin a phrase write itself. There are a couple of interesting things as well outside of this, particularly how Bob Marley perceived media, which is an important finding throughout the book, and how the ways in which he was represented were important to him. But that's a next section. For now I just wanted to share this.
Further reading:
Bowen, Glenn A. 2009. "Document Analysis as a Qualitative Research Method." Qualitative Research Journal 9 (2): 27–40.
Bordowitz, Hank, and Bob Marley. 2005. Every Little Thing Gonna Be Alright : The Bob Marley Reader. Cambridge, Ma: Da Capo Press.
(a publication worth seeking as it includes a number of great print articles on Marley and Jamaica, particularly the 'gonzo journalism' approach of Lester Bangs, who wrote a lengthy piece for Creem called 'Innocents in Babylon' which is an amazing read.
---
Verse 4 – What The Papers Say
Daily Mirror Bob The Wild Man
In 1976 Bob Marley hit the front-page of a UK tabloid, 'The Daily Mirror' twice. Bob seldom featured on front pages of British tabloids. Cindy Breakspeare, who was crowned Miss World in 1976 was in a relationship with Bob Marley. Both stories, based on 'gossip' depict Marley as the 'wild man' and Cindy as 'the beauty'.
Miss World's Wild Man 20th Nov 1976 Daily Mirror front page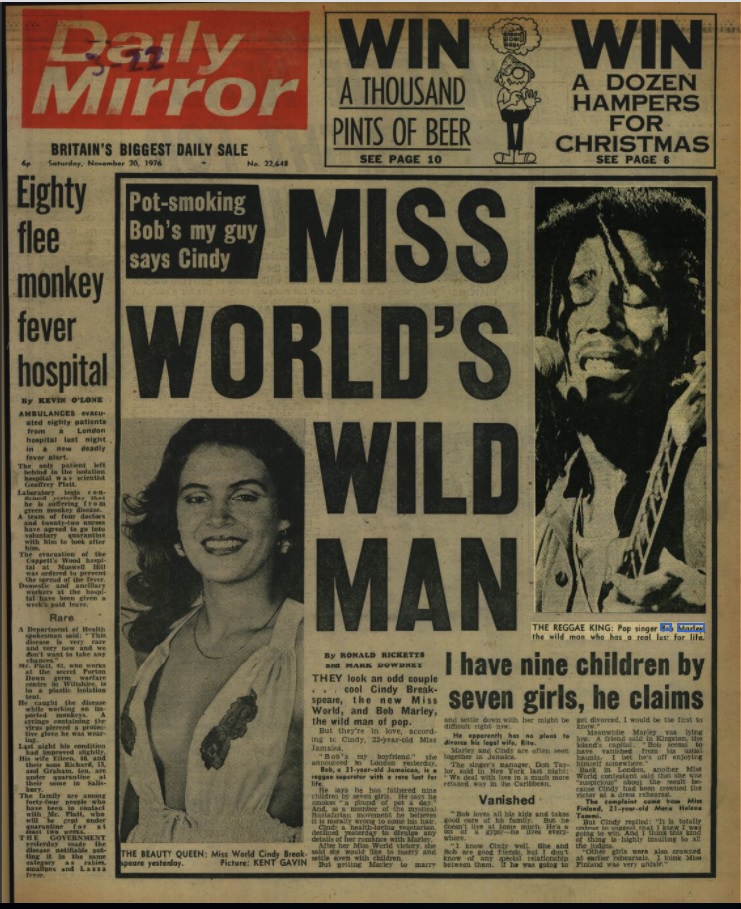 Miss World goes into hiding 17th December 1976 Daily Mirror front page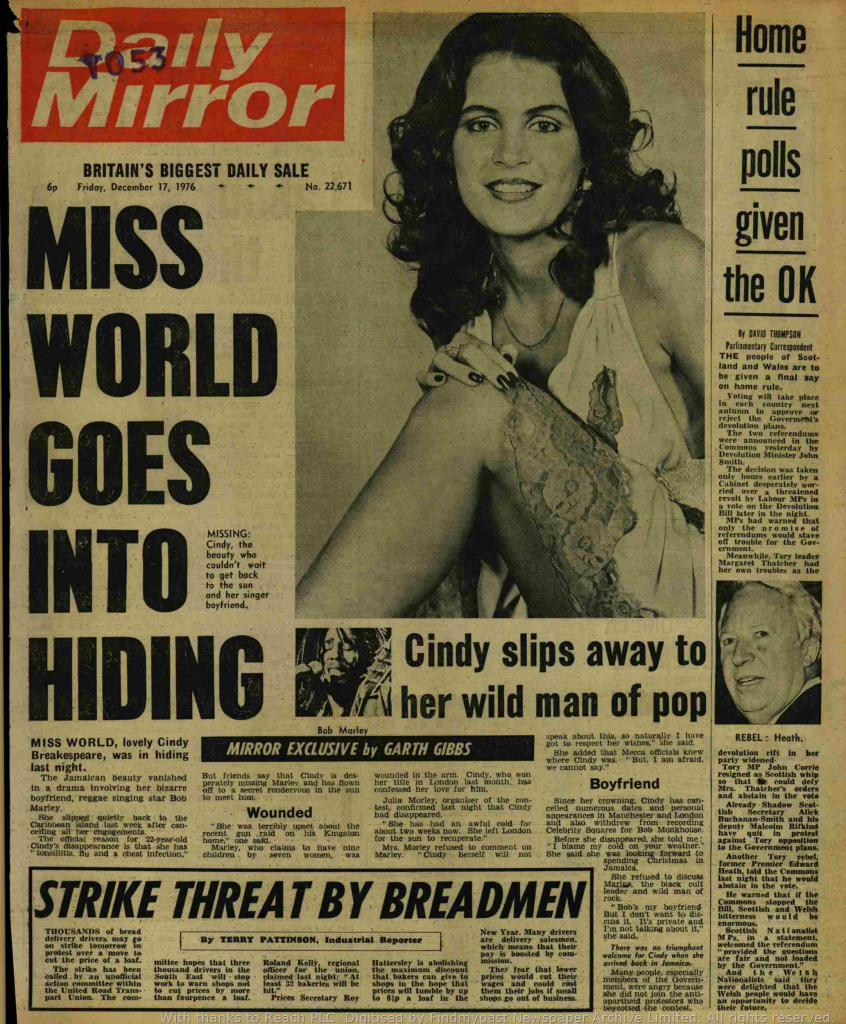 The Assassination attempt on Bib Marley 3rd December 1976
The is a lot of misleading information about the assassination attempt on Bob Marley's life, at his home in Hope Road, on 3rd December 1976. One cutting from United Press International (UPI) even implied in its headline that he was dead – something which I guess people would classify as misleading fake news in todays terms:

Bob Marley in "Playboy" and "The Daily Gleaner" 1976 – an early example of 'copy-cut-paste'
"Playboy" is possibly one of the last places I would have expected to find an article on Bob Marley in 1976 largely because the singer is incompatible aesthetically, culturally and politically with the publication. But here it is from 1976…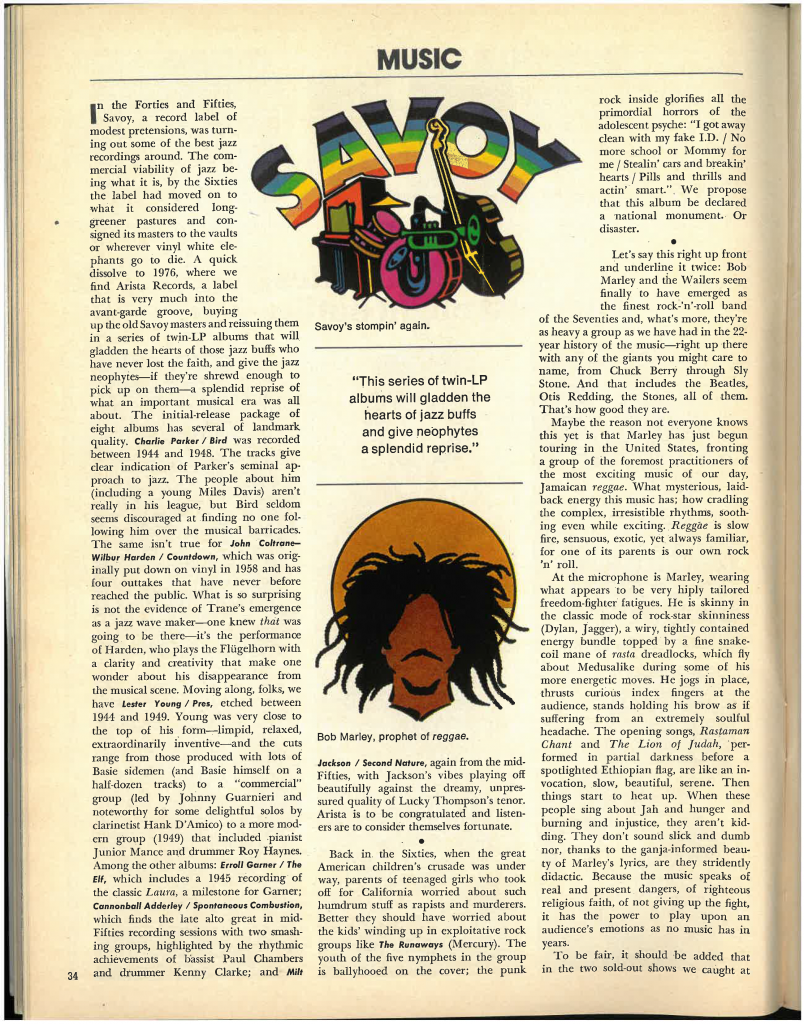 The same article appears shortly afterwards in "The Daily Gleaner" (Sept 7th 1976) with a short reference at the start that it if from "Playboy" but no critique whatsoever on how Bob Marley is characterized in such "mainstream" way by the US based magazine, which by the end of the 1970s was selling more than 6million copies. This feels like an early example of 'copy-cut-paste' to me.
===========================================================================================
Verse 5 – Bob on The Box – The Revolution That Was Not Televised
My main concern in this chapter is to analyse around fifteen television interviews featuring Bob Marley. Certainly the one that is the most hostile happened in June 1978, on Marley's first tour in Canada. At the time Sandie Rinaldo was an up and coming news reporter at CTV in Toronto, and while the program starts off in a cliché like manner, following Marley and the band around various places to the gig, the minute the interview starts its all 'hard talk' and stereotyping of Rastas.
Sandie Rinaldo CTV Interview Canada 1978