Welcome to the section of my website on my new book 'Bob Marley and Media Representation and Audiences' (Rowman & Littlefield, 2023. If you are interested in the book here's some info….
In 2017 I began researching the subject of Bob Marley and Radio, which within a year became a broader piece of research, including printed press and television representations of the singer, 1972-1981. The title of my book is 'Bob Marley and Media – Representation and Audiences.' and it's being published by Rowman & Littlefield' on February 15th 2023. The main focus of the book is an analysis of how media, radio, television and print represented Bob Marley as well as his popularity after his death in 1981. The cover illustration of the book was designed by my artist friend Versioncos aka Costantinos Pissourios.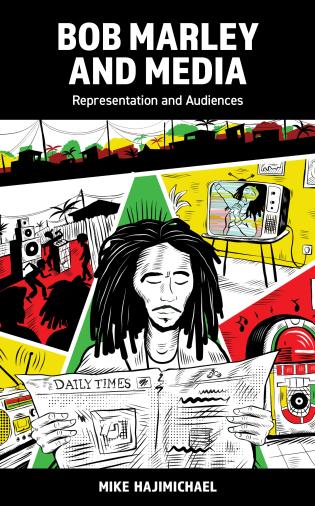 Reviews
"Mike Hajimichael's exhaustive research mines data never before examined to reveal the myth-making, often contentious coverage the Reggae King received. Issues of objectivity, outright antagonism, and deliberate misinterpretations are highlighted, showing how Marley was virtually ignored by television in his home country of Jamaica, the UK, and the U.S. despite his stadium-filling live shows and hit singles and albums. A true revelation, this book is important for academics and lay-persons alike, a one-of-a-kind study, not only entertaining but truly enlightening."
Roger Steffens author of So Much Things to Say: The Oral History of Bob Marley
"A significant addition to the literature. This ethnographic examination of Bob Marley's media coverage is engaging, painstakingly detailed, and touches on the humanity of Marley in a way very few books have done before. Hajimichael accurately captures Western media's subaltern gaze."
Dennis Howard, author, The Creative Echo Chamber: Contemporary Music Production in Kingston, Jamaica
———————————————————————————————————————————–
This section of my blog shares some of my research data and findings. Its largely structured with reference to sections in the book with key data and visual illustrations. As time goes by, updates will happen on presentations and events around the world happening in 2023 to promote the publication
Verse Three – Radio Waves Liming The Gong
Radio interviews with Marley are, like those on television limited. When I started researching this surprised me but as time progressed, evidence suggests Marley was even excluded from radio, including the BBC. Nevertheless, there are some interesting interviews with the singer on radio, including Neville Willoughby, 1973 and David Rodigan 1980
Verse Four – What The Papers Say
When collecting data for the book I suddenly realized there was much more texts in print form, largely form magazines and newspapers, than exposure for the singer through radio and television interviews. As a result I collected 1000 articles of which I focused on a sample of 100 in-depth. I then applied a document analysis which gave the ability to dissect and organize a wide range of information, from sources ranging form NME, Black Music, The Guardian, Creem, Crawdaddy, Sounds and many others, into manageable components through the use of codes and specialized themes.(Bowen 2009).
This is illustrated below in Diagram 1 Thematic Coding Tree of Print Data on Bob Marley: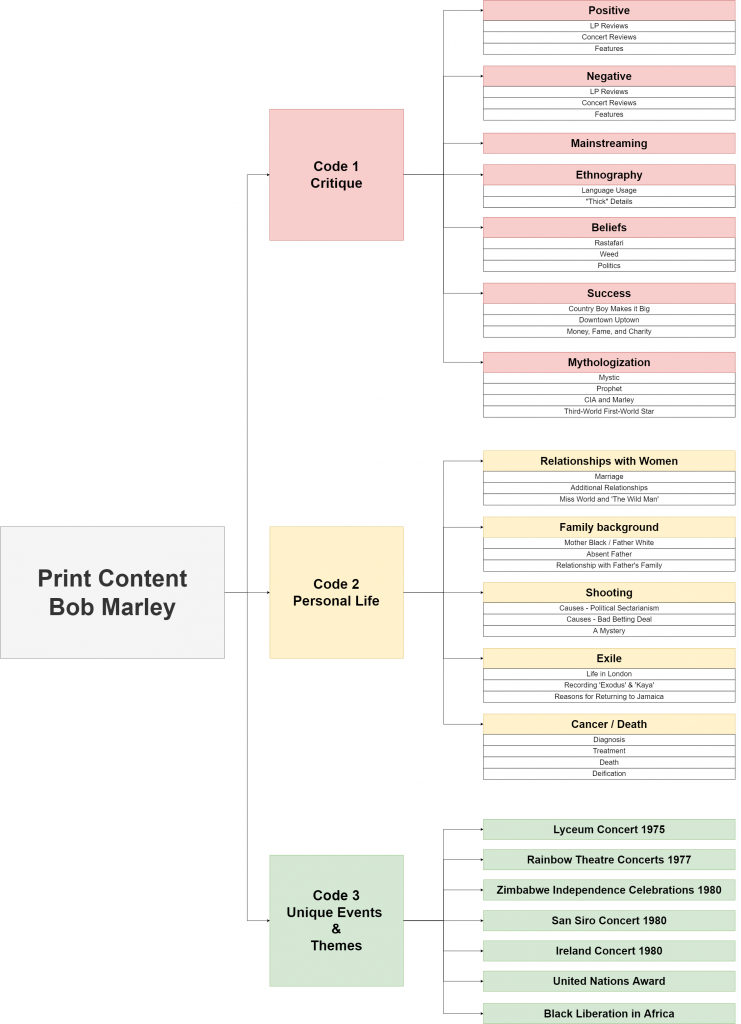 The coding tree took about six months to develop through a close reading of the 100 articles. Once it was done, the chapter on printed press could effectively, to coin a phrase write itself. There are a couple of interesting things as well outside of this, particularly how Bob Marley perceived media, which is an important finding throughout the book, and how the ways in which he was represented were important to him.
Further reading:
Bowen, Glenn A. 2009. "Document Analysis as a Qualitative Research Method." Qualitative Research Journal 9 (2): 27–40.
Bordowitz, Hank, and Bob Marley. 2005. Every Little Thing Gonna Be Alright : The Bob Marley Reader. Cambridge, Ma: Da Capo Press.
---
Daily Mirror Bob The Wild Man
In 1976 Bob Marley hit the front-page of a UK tabloid, 'The Daily Mirror' twice. Bob seldom featured on front pages of British tabloids. Cindy Breakspeare, who was crowned Miss World in 1976 was in a relationship with Bob Marley. Both stories, based on 'gossip' depict Marley as the 'wild man' and Cindy as 'the beauty'.
Miss World's Wild Man 20th Nov 1976 Daily Mirror front page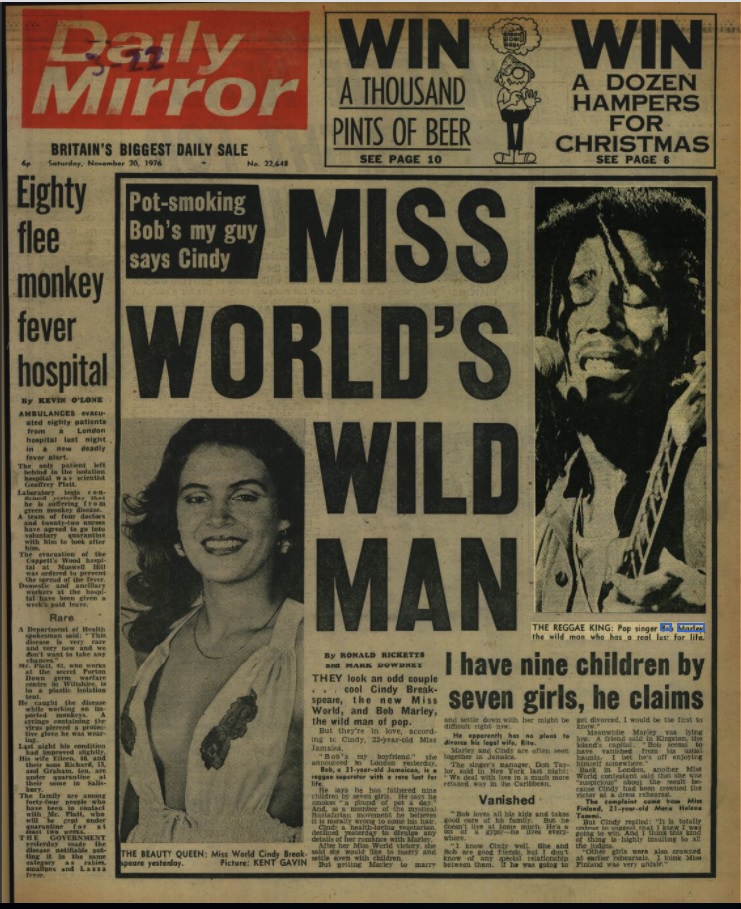 Miss World goes into hiding 17th December 1976 Daily Mirror front page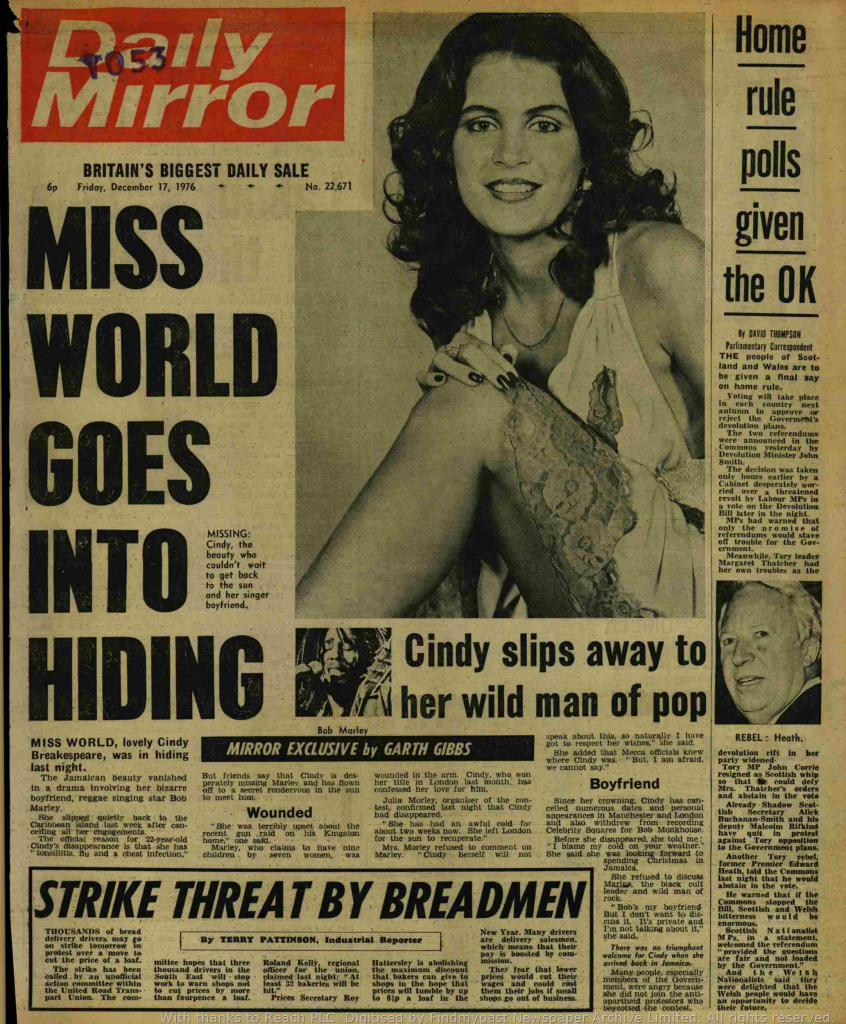 The Assassination attempt on Bob Marley 3rd December 1976
The is a lot of misleading information about the assassination attempt on Bob Marley's life, at his home in Hope Road, on 3rd December 1976. One cutting from United Press International (UPI) even implied in its headline that he was dead – something which I guess people would classify as misleading fake news in todays terms:

Bob Marley in "Playboy" and "The Daily Gleaner" 1976 – an early example of 'copy-cut-paste'
"Playboy" is possibly one of the last places I would have expected to find an article on Bob Marley in 1976 largely because the singer is incompatible aesthetically, culturally and politically with the publication. But here it is from 1976…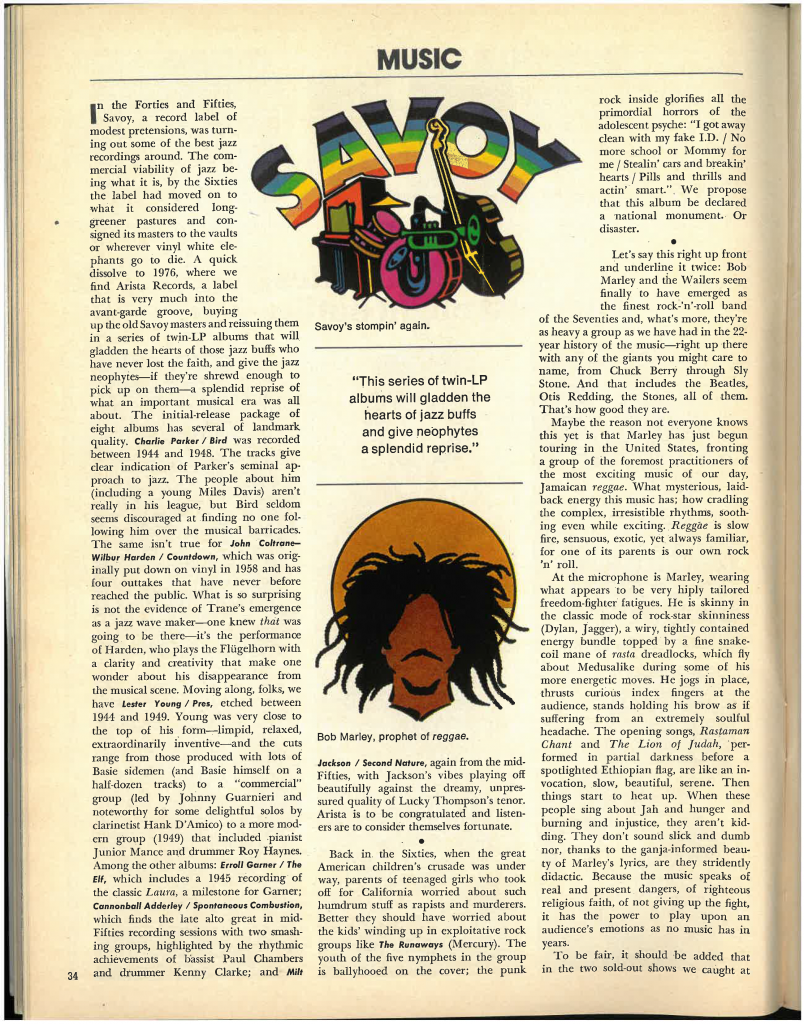 The same article appears shortly afterwards in "The Daily Gleaner" (Sept 7th 1976) with a short reference at the start that it if from "Playboy" but no critique whatsoever on how Bob Marley is characterized in such "mainstream" way by the US based magazine, which by the end of the 1970s was selling more than 6million copies. This feels like an early example of 'copy-cut-paste' to me.
===========================================================================================
Verse 5 – Bob on The Box – The Revolution That Was Not Televised
My main concern in this section of the book is to analyse around fifteen television interviews featuring Bob Marley. Certainly the most hostile one happened in June 1978, on Marley's first tour in Canada. At the time Sandie Rinaldo was an up and coming news reporter at CTV in Toronto, and while the program starts off in a cliché like manner, following Marley and the band around various places to the gig, the minute the interview starts its all 'hard talk' and stereotyping of Rastas.
Sandie Rinaldo CTV Interview Canada 1978
Of course not all television was negative. Cable television in the USA featured Marley the most. Two of the best television interviews happened on cable. Notably Bingie Barker in Canada 1979 and Gil Noble, USA 1980
Verse Six – Duppy Conqueror – Life After Death
Researching this section revealed a lot of interesting insights and facts about Bob Marley's popularity after his death. There is an interesting article for example by Chris Kornelis from 2014 on the making and marketing of 'Legend' called Legend in the Making: How Bob Marley Was Sold to the Suburbs
Honoured to have delivered The 26th Annual Bob Marley Lecture at The University of West Indies in February 2023. It was a real milestone and I would like to thank The Institute of Caribbean Studies for the invitation and The University of Nicosia for supporting my trip. Click on the image below to watch the lecture.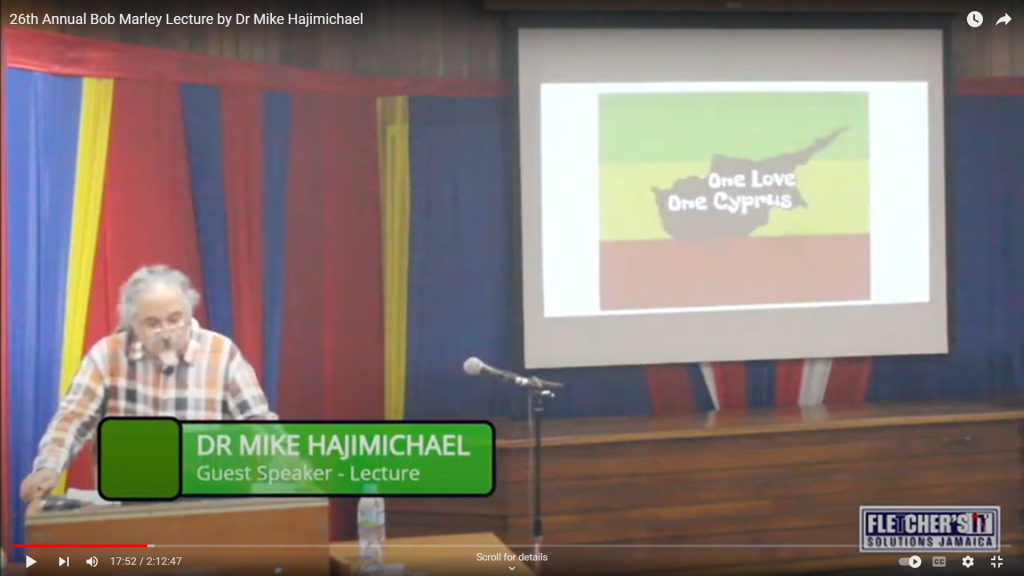 I have also spoken at events in Sweden, Lithuania, UK and Cyprus during 2023. See videos below for the lectures .at Orebro University and The University of Nicosia