Radio has been a big part of my life as a DJ. I have been on it in one way or another since 1980. It's also an important part of what I have been teaching at University for the last 20 years. I love Radio because it has a certian magic thats missing from other media…
My Weekly Outernational Radio Show happens live on Nice Up Radio Mondays 8-10pm CY  10am-12pm PST…..Get the Nice Up Radio app in the App Store for Apple or Google Play for Android. Lock in and Nice Up Yu'self!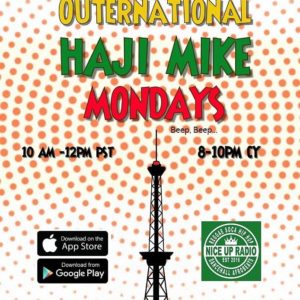 I have been spinning Reggae on Radio since the early 1980's,  on many stations far and wide the world over. The 'Outernational' show began as a Podcast around 2006 and from there went onto various radio stations including Astra (Cyprus), BigUp Radio (USA), Radio Napa (Cyprus) IrieFM (Bermuda), InspirationFM (UK) , and the online legendary Versionist – The Village Radio.
plenty of shows available on Mixcloud – click on illustration below
Join the Outernational Radio Group on Facebook  here  to keep updated
                           Selections –  Haji Mike's Radio works      
Interview with Ras Midas on BigUp Radio July 2012
Haji Mike & Dub Caravan Organic Virtual Oasis Mix 
Clear Spot on Resonance FM 27th April 2016 
Interview with Tristan Palmer on Versionist
3 Man Army Haji Mike – Dub Thomas – Rankin Johnny on Versionist
2 Bredrens – Haji Mike meets DJ Skev  on Versionist 
Haji Mike "In Session" 7 inch vinyl Selections Livicated to El Gibsy Rhodes on Versionist 
Never On Sunday – Haji Mike spins the Sunday Breakfast Show on Versionist Radio – Part 1