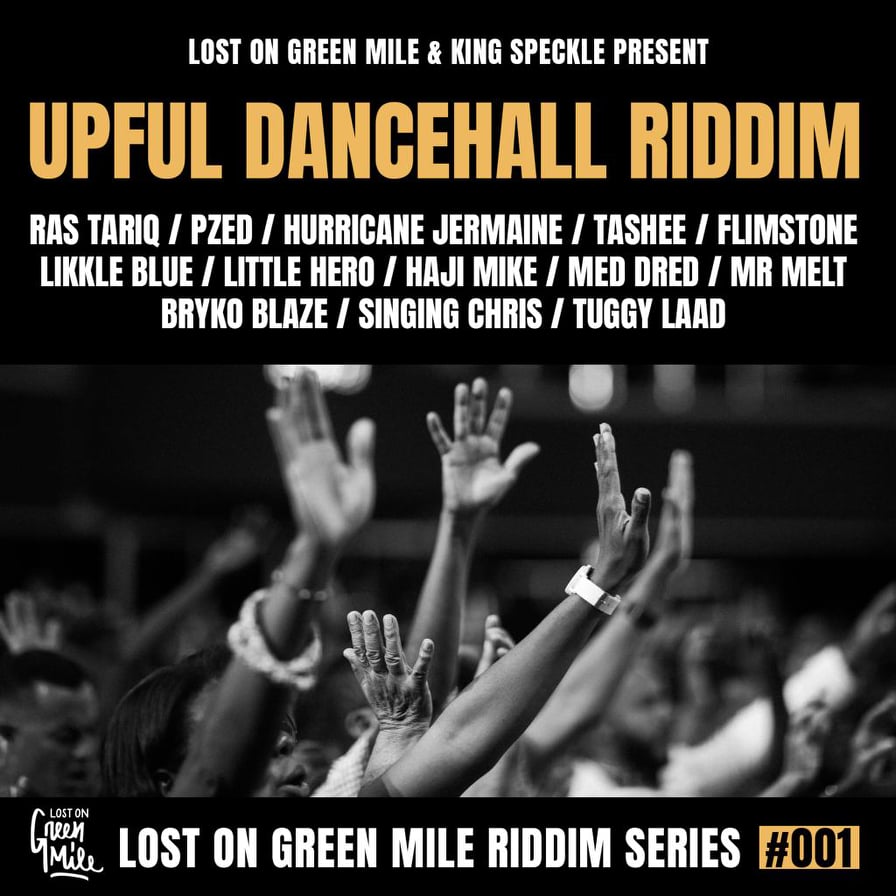 People say in music circles have to be completed. The link between Cypriot UK based Selecta, DJ and Producer and Haji MIke The Veteran of Cyprus Originotita is something that happened because it was meant to happen.
After building overwhelming anticipation and delivering a number of several hit singles, infamous powerhouse duo – Lost On Green Mile and King Speckle – join forces to release their highly anticipated riddim compilation album, Upful Dancehall Riddim, on March 10 via Lost On Green Mile/ Zojak Worldwide, the world's leading digital music distributor of Reggae & Dancehall music.
Upful Dancehall Riddim marks the arrival of a new Lost On Green Mile Riddim Series. Produced by the Cypriot UK-based Selecta, DJ, and Producer Farda Neeko, with additional production from King Speckle, turns the page on a new Lost On Green Mile era. Inspired by the original live sound of reggae & dancehall music the live riddim features legendary musicians Joslyn "King Speckle" McKenzie, Mourice Dunkan and Fabian Smith, who have played with the likes of Black Uhuru, Luciano and Sanchez to name but a few. It was recorded in 2016/2017 by the late great audio engineer and producer Barry O'Hare (RIP), who worked in the studio with Third World, Steel Pulse, and Burning Spear and was an engineer for Shaggy, Sean Paul, and Beres Hammond. In 2018, he was recognized by the Jamaica Reggae Industry Association (JaRIA) for his contribution to the growth and development of reggae music.
The riddim compilation album holds 12 different tracks voiced in 4 different languages by 13 different artists from all over the world. The riddim features Jamaican superstars Pzed, Little Hero, Singing Chris, and Tuggy Laad, but also the young and talented Tashee, Flimstone and Likkle Blue. From the UK the album features Hurricane Jermaine, who is originally from Jamaica. Bryko Blaze, also based in the UK, can be heard collaborating with young Italian artist Mr. Melt on the song 'Di System'.
From Cyprus, there are two songs on the riddim by Med Dred and a version by dub poet Haji Mike on the song Enotita! Also, The Netherlands is represented by Pakistani/ Dutch artist Ras Tariq featuring the highly anticipated cultural anthem 'Only 1 Jah'.
To celebrate the arrival of the record, Lost On Green Mile will launched a full-scale media blitz, which kicked off with an appearance on Haji Mike's radio show on Nice Up Radio. The upcoming release will be celebrated with performances, interviews, and other appearances to follow. Be sure to stay tuned!
"It has always been my passion to produce and release riddims. But sometimes life can send you in different directions. I'm very excited about this brand new riddim compilation album and I can't wait to share it with the world." ~ Farda Neeko of Lost On Green Mile
The Upful Dancehall Riddim released on March 10 on all music platforms via Lost On Green Mile/ Zojak Worldwide.
With the Lost On Green Mile Riddim Series coming soon, Upful Dancehall vibes are spreading around the world.